SO LIVEJOURNAL: I WOULD LIKE TO INTRODUCE YOU TO MY OTP.



I AM GOING DOWN WITH THIS SHIP SWEAR TO GOD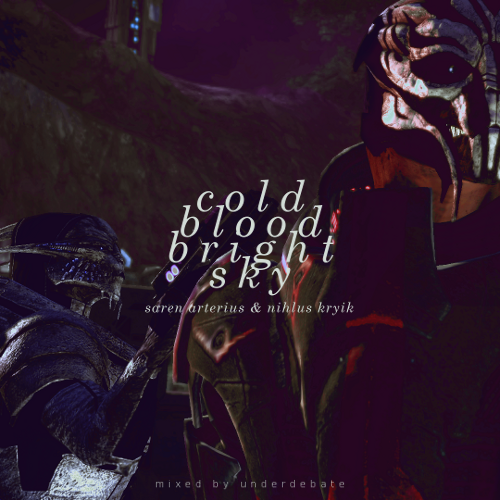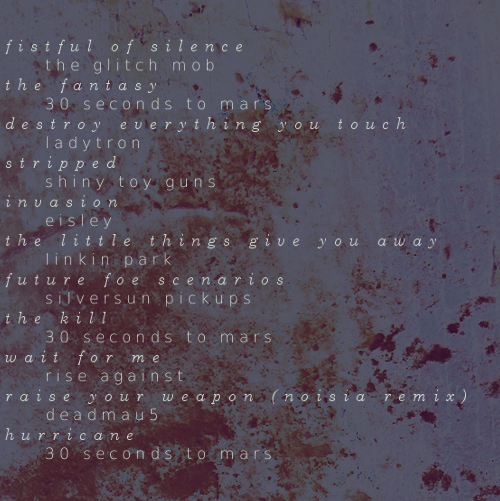 1 FISTFUL OF SILENCE, the glitch mob
instrumental
2 THE FANTASY, 30 seconds to mars
do you live
do you die
do you bleed
for the fantasy?
3 DESTROY EVERYTHING YOU TOUCH, ladytron
destroy everything you touch, today
destroy me this way
anything that may desert you
so it cannot hurt you
4 STRIPPED, shiny toy guns
let me see you stripped down to the bone
(let me hear you speaking just for me)
let me see you stripped down to the bone
(let me hear you crying just for me)
5 INVASION, eisley
you would take the breath from my throat
and you, you would take the cherished people that i hold

all in time, you will be one of
us, painless; us, blameless
go to sleep, this won't hurt a bit
shifting your shape to our shells
6 THE LITTLE THINGS GIVE YOU AWAY, linkin park
don't want to reach for me, do you
i mean nothing to you--
the little things give you away
but now there will be no mistaking,
the levees are breaking
7 FUTURE FOE SCENARIOS, silversun pickups
who do you work for, baby--
and does it work for you lately?
8 THE KILL, 30 seconds to mars
you say you wanted more--
what are you waiting for?
i'm not running from you
9 WAIT FOR ME, rise against
a promise of safe return i delivered,
but the ocean is wider than i first guessed
when roads disappeared, i followed the rivers
but somehow i got in over my head

so a deep breath i'm taking
10 RAISE YOUR WEAPON (NOISIA REMIX), deadmau5
raise your weapon
raise your weapon, and it's over
11 HURRICANE, 30 seconds to mars
no matter how many deaths that i die, i will never forget
no matter how many lives that i live, i will never regret

there is a fire inside of this heart
and a riot about to explode into flame

where is your god?
[
download
]